Our FP200 swing door finger guard is now available to order in two lengths, 2,015mm or 1,925mm. There are three housing finish options; White, Satin Anodised Aluminium or Dark Bronze Anodised.
New LAS-9070 Finger Guard Now Available
We are pleased to announce the release of our new swing door finger guard LAS-9070.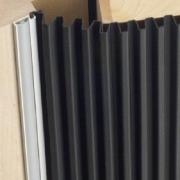 LAS-9070 is available in Black or Grey silicone based rubberized material, in a length of 2.1m, that can be easily cut on-site.